December 2
@
10:00 am
–
1:00 pm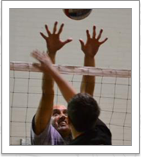 Every Saturday from 10:00am – 1:00pm, VballNetwork runs its open play at Margate Park (located at 4921 N Marine Drive, Chicago), just 3 blocks east of the Argyle Red Line stop. If you're driving, there's a free lot as well as some open street parking. Three full hours of play for $10. We limit the number of players to 36 to ensure that you're sitting out for no more than one game at a time. 36 players, 6 teams, 2 courts, and 1 place for the action – Margate Park with VballNetwork!
We expect those playing with us to have a basic understanding of common volleyball systems like 5-1 and 6-2. We also ask that you come in with a BB-level of play or higher. VBN is a competitive court to play on. Not sure that that means? Just pop by once to watch for a while before playing with us and get a good idea! We ask this to preserve good play and to decrease the chances of injury to you and other players.
Secure your spot for Saturday play each week online:
Pay online on our website for $10 which saves your spot at 10:00am. Online sign-ups will open up Thursday at 7pm and close Friday at 10pm. Please be on time, we reserve the right to forfeit the spots of any late arrivals to other on-location players on the waiting list.
In person, if spots are available after online sign-ups. VballNetwork will notify via VballNetwork .com/Facebook/Twitter early Saturday morning as to how many spots are open for on-site sign-up…first come, first served.
We look forward, each and every week, to seeing your shiny face embroiled in the fervor of VBN's happy-action. Then perhaps, afterwards, we'll also see your shiny face embroiled in the fervor of a beer!
Tickets available Thursday 7:00 pm – Friday 10:00 pm